Frogfish Photos
Baby Frogfishes - Baby Anglerfische
Anglerfisch-Fotos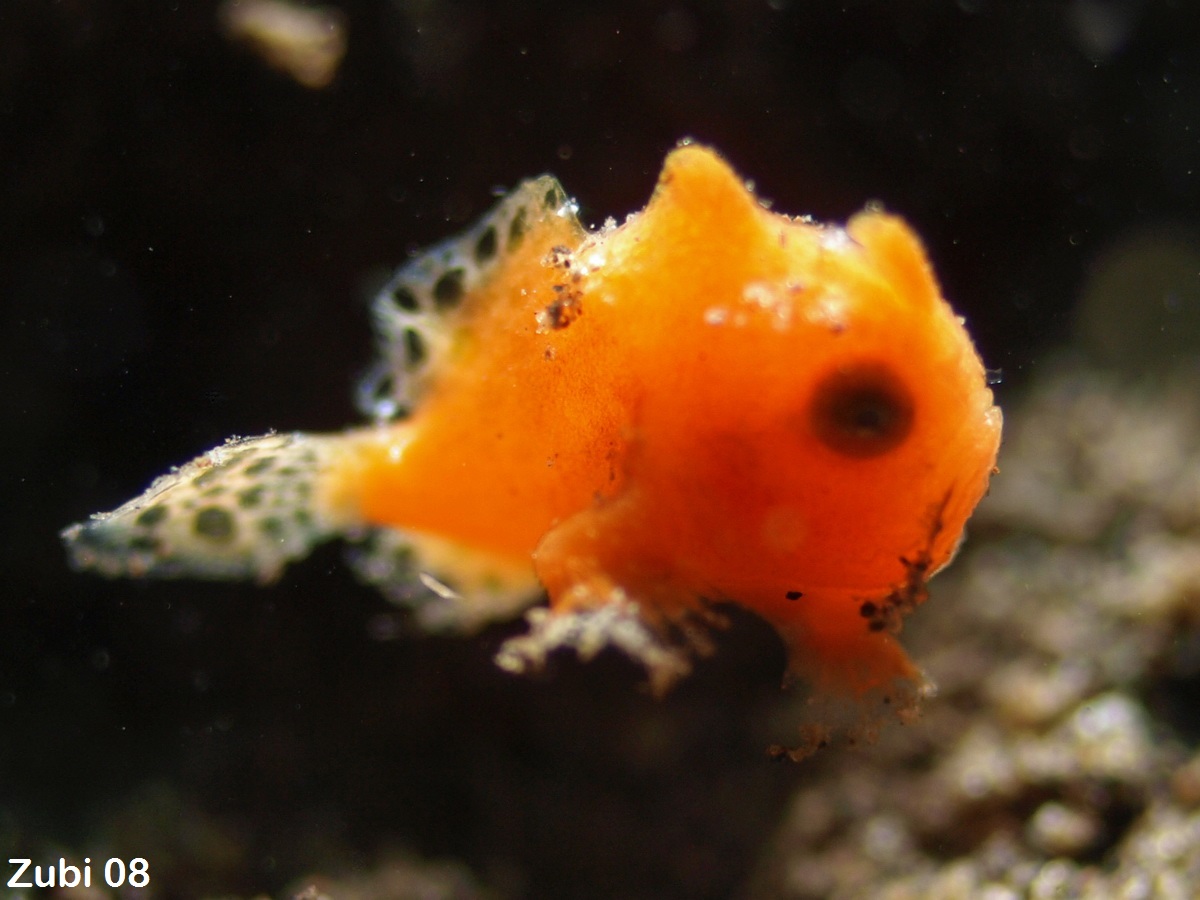 With such small creatures like the frogfish babies shown on this page it is even more diffcult to make out the lure and the bait and thus it is even more difficult to be sure about which species they belong to. Mistakes are possible.....
Click here for frogfish-photos only by Teresa Zubi

-

Mit so winzigen Lebewesen wie die Anglerfisch-Babies, die hier gezeigt werden ist es noch schwieriger, die Angel genau zu sehen und deshalb noch schwieriger, die Arten zu bestimmen. Fehler sind also durchaus möglich....
Hier klicken für Anglerfisch-Fotos nur von Teresa Zubi

Special images - Spezielle Fotos

Painted frogfish ? - Antennarius pictus - Rundflecken Anglerfisch?
Copyright Ralf Braun


Painted frogfish ? - Antennarius pictus - Rundflecken Anglerfisch?
Copyright Ralf Braun


For comparison: Baby with blue dorsal fins
Zum Vergleich: Baby mit blauen Rückenflossen


Painted frogfish ? - Antennarius pictus - Rundflecken Anglerfisch?
Copyright Ralf Braun


Painted frogfish ? - Antennarius pictus - Rundflecken Anglerfisch?
Copyright Ralf Braun


For comparison: Baby with white spots
Zum Vergleich: Baby mit weissen Flecken

Giant frogfish - Antennarius commerson (commersonii) - Riesen Anglerfisch
Copyright Stu Caren


Giant frogfish - Antennarius commerson (commersonii) - Riesen Anglerfisch


Giant frogfish - Antennarius commerson (commersonii) - Riesen Anglerfisch


Giant frogfish - Antennarius commerson (commersonii) - Riesen Anglerfisch


Giant frogfish - Antennarius commerson (commersonii) - Riesen Anglerfisch

| | | |
| --- | --- | --- |
| Hispid frogfish - Antennarius hispidus - Hispid Anglerfisch | Hispid frogfish - Antennarius hispidus - Hispid Anglerfisch | Hispid frogfish - Antennarius hispidus - Hispid Anglerfisch |
| Hispid frogfish - Antennarius hispidus - Hispid Anglerfisch | Hispid frogfish - Antennarius hispidus - Hispid Anglerfisch | Hispid frogfish - Antennarius hispidus - Hispid Anglerfisch |


Warty frogfish (Clown frogfish) - Antennarius maculatus - Warzen Anglerfisch


Warty frogfish (Clown frogfish) - Antennarius maculatus - Warzen Anglerfisch


Warty frogfish (Clown frogfish) - Antennarius maculatus - Warzen Anglerfisch


Warty frogfish (Clown frogfish) - Antennarius maculatus - Warzen Anglerfisch


Warty frogfish (Clown frogfish) - Antennarius maculatus - Warzen Anglerfisch


Lure of Warty frogfish (Clown frogfish) - Antennarius maculatus - Angel des Warzen Anglerfisches


Warty frogfish (Clown frogfish) - Antennarius maculatus - Warzen Anglerfisch


Warty frogfish (Clown frogfish) - Antennarius maculatus - Warzen Anglerfisch


Warty frogfish (Clown frogfish) - Antennarius maculatus - Warzen Anglerfisch


Warty frogfish (Clown frogfish) - Antennarius maculatus - Warzen Anglerfisch
Copyright Godehard Kopp


Warty frogfish (Clown frogfish) - Antennarius maculatus - Warzen Anglerfisch


Warty frogfish (Clown frogfish) - Antennarius maculatus - Warzen Anglerfisch


Warty frogfish (Clown frogfish) - Antennarius maculatus - Warzen Anglerfisch


Warty frogfish (Clown frogfish) - Antennarius maculatus - Warzen Anglerfisch


Warty frogfish (Clown frogfish) - Antennarius maculatus - Warzen Anglerfisch


Warty frogfish (Clown frogfish) - Antennarius maculatus - Warzen Anglerfisch
Copyright Raymond™
Creative Commons License


Warty frogfish (Clown frogfish) - Antennarius maculatus - Warzen Anglerfisch
Copyright Raymond™
Creative Commons License


Warty frogfish (Clown frogfish) - Antennarius maculatus - Warzen Anglerfisch
Copyright Raymond™
Creative Commons License


Warty frogfish (Clown frogfish) yawning - Antennarius maculatus - Warzen Anglerfisch gähnt
Copyright Gordon Tillen


Warty frogfish (Clown frogfish) - Antennarius maculatus - Warzen Anglerfisch
Copyright Gordon Tillen


Warty frogfish (Clown frogfish) - Antennarius maculatus - Warzen Anglerfisch
Copyright Gordon Tillen


juvenile Antennarius maculatus - Clown frogfish (Warty frogfish) - Juveniler Warzen Anglerfisch
Copyright Jean-Luis Allaman


juvenile Antennarius maculatus - Clown frogfish (Warty frogfish) - Juveniler Warzen Anglerfisch
Copyright Jean-Luis Allaman


juvenile Antennarius maculatus - Clown frogfish (Warty frogfish) - Juveniler Warzen Anglerfisch
Copyright Teri Perry


Painted frogfish - Antennarius pictus - Rundflecken Anglerfisch
Copyright Shaun Tierney


Painted frogfish - Antennarius pictus - Rundflecken Anglerfisch


Painted frogfish - Antennarius pictus - Rundflecken Anglerfisch


Painted frogfish - Antennarius pictus - Rundflecken Anglerfisch


Painted frogfish - Antennarius pictus - Rundflecken Anglerfisch


Painted frogfish - Antennarius pictus - Rundflecken Anglerfisch


Painted frogfish - Antennarius pictus - Rundflecken Anglerfisch


Painted frogfish - Antennarius pictus - Rundflecken Anglerfisch


Painted frogfish - Antennarius pictus - Rundflecken Anglerfisch


Painted frogfish - Antennarius pictus - Rundflecken Anglerfisch
Brian Mayes


Painted frogfish - Antennarius pictus - Rundflecken Anglerfisch
Brian Mayes


Painted frogfish - Antennarius pictus - Rundflecken Anglerfisch
Brian Mayes


Painted frogfish - Antennarius pictus - Rundflecken Anglerfisch
Copyright Volker Mattke


Painted frogfish - Antennarius pictus - Rundflecken Anglerfisch
Copyright Volker Mattke


Painted frogfish - Antennarius pictus - Rundflecken Anglerfisch
Copyright Volker Mattke


Painted frogfish - Antennarius pictus - Rundflecken Anglerfisch
Copyright Volker Mattke


Painted frogfish - Antennarius pictus - Rundflecken Anglerfisch
Copyright Volker Mattke


Painted frogfish - Antennarius pictus - Rundflecken Anglerfisch
Copyright Burkhard Ohlendorf


Painted frogfish - Antennarius pictus - Rundflecken Anglerfisch
Copyright Volker Mattke


Painted frogfish - Antennarius pictus - Rundflecken Anglerfisch
Copyright Volker Mattke


Painted frogfish - Antennarius pictus - Rundflecken Anglerfisch
Copyright Volker Mattke


Painted frogfish - Antennarius pictus - Rundflecken Anglerfisch
Copyright Volker Mattke


Painted frogfish - Antennarius pictus - Rundflecken Anglerfisch
Copyright Colin Marshall


Painted frogfish - Antennarius pictus - Rundflecken Anglerfisch
Copyright Volker Mattke


Painted frogfish - Antennarius pictus - Rundflecken Anglerfisch
Copyright Volker Mattke


Painted frogfish - Antennarius pictus - Rundflecken Anglerfisch
Copyright Colin Marshall


Painted frogfish - Antennarius pictus - Rundflecken Anglerfisch
Copyright Teri Perry


Painted frogfish - Antennarius pictus - Rundflecken Anglerfisch
Copyright Teri Perry


Semiadult Painted frogfish - Antennarius pictus - Jugtier Rundflecken Anglerfisch
Copyright Teri Perry


Baby Painted frogfish - Antennarius pictus - Baby Rundflecken Anglerfisch


Baby Painted frogfish - Antennarius pictus - Baby Rundflecken Anglerfisch
Copyright Michael D. Miller


Baby Painted frogfish - Antennarius pictus - Baby Rundflecken Anglerfisch


Painted frogfish - Antennarius pictus - Rundflecken Anglerfisch
Copyright David Henshaw


Baby Painted frogfish - Antennarius pictus - Baby Rundflecken Anglerfisch
Copyright Gordon Tillen


Painted frogfish - Antennarius pictus - Rundflecken Anglerfisch
Copyright Jürgen Kies


Painted frogfish - Antennarius pictus - Rundflecken Anglerfisch
Copyright Rob van de Louw


Painted frogfish - Antennarius pictus - Rundflecken Anglerfisch
Copyright Rob van de Louw


Painted frogfish - Antennarius pictus - Rundflecken Anglerfisch
Copyright Rob van de Louw


Painted frogfish - Antennarius pictus - Rundflecken Anglerfisch


Painted frogfish - Antennarius pictus - Rundflecken Anglerfisch
Copyright Shaun Tierney


Painted frogfish - Antennarius pictus - Rundflecken Anglerfisch
Copyright Rob van de Louw


Baby Randall's frogfish - Antennarius randalli - Baby Randall Anglerfisch
Copyright Johanna Gawron


Baby Randall's frogfish - Antennarius randalli - Baby Randall Anglerfisch
Copyright Johanna Gawron


Baby Randall's frogfish - Antennarius randalli - Baby Randall Anglerfisch
Copyright Johanna Gawron


Baby Randall's frogfish - Antennarius randalli - Baby Randall Anglerfisch
Copyright Guido and Philippe
(www.poppe-images.com)


Baby Randall's frogfish - Antennarius randalli - Baby Randall Anglerfisch
Copyright Guido and Philippe Poppe
(www.poppe-images.com)


Baby Randall's frogfish - Antennarius randalli - Baby Randall Anglerfisch
Copyright Guido and Philippe Poppe
(www.poppe-images.com)


Striped or Hairy frogfish - Antennarius striatus - Gestreifter Anglerfisch


Striped or Hairy frogfish - Antennarius striatus - Gestreifter Anglerfisch


Striped or Hairy frogfish - Antennarius striatus - Gestreifter Anglerfisch


Striped or Hairy frogfish - Antennarius striatus - Gestreifter Anglerfisch


Striped or Hairy frogfish - Antennarius striatus - Gestreifter Anglerfisch


Striped or Hairy frogfish - Antennarius striatus - Gestreifter Anglerfisch


Striped or Hairy frogfish - Antennarius striatus - Gestreifter Anglerfisch


Striped or Hairy frogfish - Antennarius striatus - Gestreifter Anglerfisch


Striped or Hairy frogfish - Antennarius striatus - Gestreifter Anglerfisch


Striped or Hairy frogfish - Antennarius striatus - Gestreifter Anglerfisch


Striped or Hairy frogfish - Antennarius striatus - Gestreifter Anglerfisch


Striped or Hairy frogfish - Antennarius striatus - Gestreifter Anglerfisch
Copyright Volker Mattke


Lembeh Frogfish (?) - Antennarius sp - Lembeh Anglerfisch (?)
Copyright Brian Mayes
Bali, Indonesia


Lembeh Frogfish (?) - Antennarius sp - Lembeh Anglerfisch (?)
Copyright Brian Mayes
Bali, Indonesia


Lembeh Frogfish (?) - Antennarius sp - Lembeh Anglerfisch (?)
Copyright Brian Mayes
Bali, Indonesia


Tuberculated Frogfish - Antennatus tuberosus< - Tuberkel Anglerfisch
Copyright Johanna Gawron


Tuberculated Frogfish - Antennatus tuberosus - Tuberkel Anglerfisch
Copyright Johanna Gawron


Tuberculated Frogfish - Antennatus tuberosus - Tuberkel Anglerfisch
Copyright Johanna Gawron


Tuberculated Frogfish - Antennatus tuberosus - Tuberkel Anglerfisch
Copyright Johanna Gawron


Tuberculated Frogfish - Antennatus tuberosus - Tuberkel Anglerfisch
Copyright Johanna Gawron


Tuberculated Frogfish - Antennatus tuberosus - Tuberkel Anglerfisch
Copyright Johanna Gawron


Tuberculated Frogfish - Antennatus tuberosus< - Tuberkel Anglerfisch
Copyright Brian Mayes


Tuberculated Frogfish - Antennatus tuberosus - Tuberkel Anglerfisch
Copyright Brian Mayes


Tuberculated Frogfish - Antennatus tuberosus - Tuberkel Anglerfisch
Copyright Brian Mayes


Tuberculated Frogfish (Bandfin Frogfish) - Antennatus tuberosus - Tuberkel Anglerfisch (Schwanzstreifen Anglerfisch)
Copyright Colin Marshall


Tuberculated Frogfish (Bandfin Frogfish) - Antennatus tuberosus - Tuberkel Anglerfisch (Schwanzstreifen Anglerfisch)
Copyright Teri Perry


Tuberculated Frogfish (Bandfin Frogfish) - Antennatus tuberosus - Tuberkel Anglerfisch (Schwanzstreifen Anglerfisch)
Copyright Teri Perry


Tuberculated Frogfish (Bandfin Frogfish) - Antennatus tuberosus - Tuberkel Anglerfisch (Schwanzstreifen Anglerfisch)
Copyright Teresa Zubi


Tuberculated Frogfish (Bandfin Frogfish) - Antennatus tuberosus - Tuberkel Anglerfisch (Schwanzstreifen Anglerfisch)
Copyright Teresa Zubi


Tuberculated Frogfish (Bandfin Frogfish) - Antennatus tuberosus - Tuberkel Anglerfisch (Schwanzstreifen Anglerfisch)
Copyright Teresa Zubi


Baby Tuberculated Frogfish - Antennatus tuberosus - Baby Tuberkel Anglerfisch
Copyright Brenda Blackburn


Baby Tuberculated Frogfish - Antennatus tuberosus - Baby Tuberkel Anglerfisch
Copyright Brenda Blackburn


Baby Tuberculated Frogfish - Antennatus tuberosus - Baby Tuberkel Anglerfisch
Copyright Brenda Blackburn

Juvenile Prickly Frogfish , Thick-spined anglerfish - Echinophryne crassispina - Juveniler Stachliger Anglerfisch
Copyright Rachel Arnold



Cryptic Frogfish / Rodless frogfish - Histiophryne cryptacanthus - Verborgener Anglerfisch
Copyright Teresa Zubi


Cryptic Frogfish / Rodless frogfish - Histiophryne cryptacanthus - Verborgener Anglerfisch
Copyright Teresa Zubi


Cryptic Frogfish / Rodless frogfish - Histiophryne cryptacanthus - Verborgener Anglerfisch
Copyright Teresa Zubi


Cryptic Frogfish / Rodless frogfish - Histiophryne cryptacanthus - Verborgener Anglerfisch
Copyright Teresa Zubi


Cryptic Frogfish / Rodless frogfish - Histiophryne cryptacanthus - Verborgener Anglerfisch
Copyright Teresa Zubi


Cryptic Frogfish / Rodless frogfish - Histiophryne cryptacanthus - Verborgener Anglerfisch
Copyright Teresa Zubi


JuvenileCryptic Frogfish - Histiophryne cryptacanthus - Jungtier, Verborgener Anglerfisch
Copyright Volker Mattke
(Sulawesi)


JuvenileCryptic Frogfish - Histiophryne cryptacanthus - Jungtier, Verborgener Anglerfisch
Copyright Volker Mattke
(Sulawesi)


JuvenileCryptic Frogfish - Histiophryne cryptacanthus - Jungtier, Verborgener Anglerfisch
Copyright Volker Mattke
(Sulawesi)


JuvenileCryptic Frogfish - Histiophryne cryptacanthus - Jungtier, Verborgener Anglerfisch
Copyright Yaps
(Sulawesi)


JuvenileCryptic Frogfish - Histiophryne cryptacanthus - Jungtier, Verborgener Anglerfisch
Copyright Yaps
(Sulawesi)


JuvenileCryptic Frogfish - Histiophryne cryptacanthus - Jungtier, Verborgener Anglerfisch
Copyright Yaps
(Sulawesi)


Juvenile Cryptic Frogfish / Rodless frogfish (Alor) Histiophryne cryptacanthus - Juveniler Verborgener Anglerfisch (Alor)
Copyright Christiane Waldrich


Juvenile Cryptic Frogfish / Rodless frogfish (Sulawesi) Histiophryne cryptacanthus - Juveniler Verborgener Anglerfisch (Sulawesi)
Copyright Manfred Edelbauer


Juvenile Cryptic Frogfish / Rodless frogfish (Sulawesi) Histiophryne cryptacanthus - Juveniler Verborgener Anglerfisch (Sulawesi)
Copyright Charo Gertrudix



Sargasso frogfish - Histrio histrio - Sargassum Anglerfisch

Sargasso frogfish - Histrio histrio - Sargassum Anglerfisch
Copyright Mary Jane Adams


Sargasso frogfish - Histrio histrio - Sargassum Anglerfisch


Sargasso frogfish - Histrio histrio - Sargassum Anglerfisch


Sargasso frogfish - Histrio histrio - Sargassum Anglerfisch

Sargasso frogfish - Histrio histrio - Sargassum Anglerfisch
Copyright Danté Fenolio


Eggs of the Marble-mouth frogfish - Lophiocharon lithinostomus - Eier des Marmor-Maul Anglerfisches
Copyright Teresa Zubi


Eggs of the Marble-mouth frogfish - Lophiocharon lithinostomus - Eier des Marmor-Maul Anglerfisches
Copyright Teresa Zubi


Eggs of the Marble-mouth frogfish - Lophiocharon lithinostomus - Eier des Marmor-Maul Anglerfisches
Copyright Teresa Zubi


Eggs of the Marble-mouth frogfish - Lophiocharon lithinostomus - Eier des Marmor-Maul Anglerfisches
Copyright Teresa Zubi


Eggs of the Marble-mouth frogfish - Lophiocharon lithinostomus - Eier des Marmor-Maul Anglerfisches
Copyright Teresa Zubi


Eggs of the Marble-mouth frogfish - Lophiocharon lithinostomus - Eier des Marmor-Maul Anglerfisches
Copyright Teresa Zubi


Eggs of the Marble-mouth frogfish - Lophiocharon lithinostomus - Eier des Marmor-Maul Anglerfisches
Copyright Graham Abbott


Eggs of the Marble-mouth frogfish - Lophiocharon lithinostomus - Eier des Marmor-Maul Anglerfisches
Copyright Jason Isley


Marble-mouth frogfish - Lophiocharon lithinostomus - Marmor-Maul Anglerfisch
Copyright Jason Isley


Eggs of the Three-Spot or Spotted-Tail frogfish - Lophiocharon trisignatus - Eier des Dreifleck-Anglerfisches
Copyright Mary Jane Adams



Unidentified Frogfish-Babies

Unidentified frogfish - Antennarius - Nicht identifizierter Anglerfisch
Copyright Martin Buschenreithner


Unidentified frogfish - Antennarius - Nicht identifizierter Anglerfisch
Copyright Johanna Gawron


Unidentified frogfish - Antennarius - Nicht identifizierter Anglerfisch
Copyright Shaun Tierney


Unidentified frogfish - Antennarius - Nicht identifizierter Anglerfisch
Copyright Johanna Gawron


Unidentified frogfish - Antennarius - Nicht identifizierter Anglerfisch
Copyright Johanna Gawron


Unidentified frogfish - Antennarius - Nicht identifizierter Anglerfisch
Copyright Jürgen Kies


Unidentified frogfish - Antennarius - Nicht identifizierter Anglerfisch
Copyright Shaun Tierney


Unidentified frogfish - Antennarius - Nicht identifizierter Anglerfisch
Copyright Ellen Muller


Unidentified frogfish - Antennarius - Nicht identifizierter Anglerfisch
Copyright Teresa Zubi, Redang, Malaysia


Unidentified frogfish - Antennarius - Nicht identifizierter Anglerfisch
Copyright Teresa Zubi, Redang, Malaysia


Unidentified frogfish - Antennarius - Nicht identifizierter Anglerfisch
Copyright Teresa Zubi, Redang, Malaysia

Choose a Frogfish-Species - Wähle eine Anglerfisch-Art
Antennarius: Antennarius biocellatus / Antennarius commerson / Antennarius hispidus / Antennarius maculatus / Antennarius multiocellatus / Antennarius pardalis / Antennarius pauciradiatus / Antennarius pictus / Antennarius randalli / Antennarius sarasa / Antennarius striatus
Antennatus: Antennatus analis / Antennatus bermudensis / Antennatus coccineus / Antennatus dorehensis / Antennatus duescus / Antennatus flagellatus / Antennatus linearis / Antennatus nummifer / Antennatus rosaceus / Antennatus sanguineus / Antennatus strigatus / Antennatus tuberosus / New species? - Antennatus sp. - neue Art?
Fowlerichthys: Fowlerichthys avalonis / Fowlerichthys ocellatus / Fowlerichthys radiosus / Fowlerichthys scriptissimus / Fowlerichthys senegalensis
Histiophryne: Histiophryne bougainvilli / Histiophryne cryptacanthus / Histiophryne maggiewalker / Histiophryne pogonius / Histiophryne psychedelica / Histiophryne sp - new species?
Echinophryne: Echinophryne crassispina / Echinophryne mitchelli / Echinophryne reynoldsi
Kuiterichthys: Kuiterichthys furcipilis / Kuiterichthys pietschi
Lophiocharon: Lophiocharon hutchinsi / Lophiocharon lithinostomus / Lophiocharon trisignatus
Rhycherus: Rhycherus filamentosus / Rhycherus gloveri
Allenichthys glauerti / Histrio histrio / Nudiantennarius subteres / Phyllophryne scortea / Tathicarpus butleri / Antennariidae gen. et nov. sp.

| | | |
| --- | --- | --- |
| Copyright of all photos with Teresa Zubi except where the copyright is listed below the image. All photos used with the permission of the photographers. Thanks a lot! New photos, specially of species that are not so well-known are always welcome! | - | Alle Fotos mit Copyright von Teresa Zubi ausser dort, wo das Copyright unter dem Foto aufgelistet ist. Alle Fotos wurden mit der Erlaubnis der Photographen verwendet. Vielen Dank! Neue Fotos, speziell von nicht so bekannten Arten sind jederzeit willkommen! |
| For a complete list of all 48 (53?) frogfish-species please click here | - | Für eine Liste aller 48 (53?) Anglerfisch-Arten bitte hier klicken |

Do you have photos to add to this collection?
Please write to
and give me your www.address where I can download the photos or send them as an attachment. I give credits, link the photo to your homepage and add a text (or you write something), if it is known where the photo was taken. These pages are non-commercial, no adverts added.
In addition I'm interested in photos that show special behavior of frogfish (luring, catching, swallowing, spawning, camouflage) and of course of frogfish-species (see list below) I have only a few or no photos yet....

Wanted
This is the only frogfish species I have no photo yet
Nudiantennarius subteres
Das ist die einzige Anglerfisch-Art, von der ich noch kein Foto habe
Of these species I only have pictures of preserved animals - has anybody a picture of the living frogfish?
Antennatus analis / Antennatus duescus / Antennatus flagellatus / Fowlerichthys senegalensis / Histiophryne maggiewalker / Lophiocharon hutchinsi / Tathicarpus butleri
Von diesen Anglerfischen habe ich nur Fotos von konservierten Exemplaren - Fotos von lebendigen Anglerfischen sind willkommen!

Hast Du Fotos, die ich dieser Sammlung beifügen könnte?
Bitte schreibe an:
und gibt mir die Webadresse, wo ich die Bilder hinunterladen kann oder schicke die Fotos als Anhang. Selbstverständlich schreibe ich jeweils das Copyright dazu und linke das Fotos zu Deiner Webseite. Ausserdem schreibe ich meist einen kleinen Text (oder Du schreibst etwas dazu). Meine Webseite ist nicht kommerziell, also keine Werbung.
Besonders interessiert bin ich an Anglerfisch-Arten, von den ich noch keine oder wenige Fotos habe (siehe Liste oben). Und natürlich Fotos von besonderem Verhalten wie angeln, schlucken, tarnen, Fortpflanzung.